The Blue Tank Engine
I've been offering these conversion kits for a few years now and the Mini Motor Car is simply an enhancement and upgrade of the basic design. The Tek-Nek Thomas plastic ride-ons are getting very difficult to find anymore so the full kit will no longer be offered as a regular item. The power chassis will still be offered for those that can find the plastic body, and a lengthened version can be ordered for anyone wanting a good start for their own speeder design, or for converting other plastic ride-on toys.
If you absolutely positively have to have one, we will work with you to find one. The injection molds appear to have been sold to Little Tykes, who now makes this train available from mobileation.com and I'm certain the conversion chassis would work just fine to convert it to 7.5" gauge.
FINALLY: a conversion kit for the Learning Curve / Peg-Perego Thomas and Friends Track Rider. This toy has resisted attempts for an inexpensive conversion, but I beleive the result is very nice. Shown with my British coach sides applied to our Mini Motor Car. Yes those are properly quartered siderods. No, it is not powered, there isn't enough weight to pull anything if it was. It is pushed by one of my Mini Motor cars which can be made up to look very much like a LNER suberban teak coach. The orange of my MMC isn't the best match but it gives a good idea of what the finished product will look like.

The Thomas body is from the Peg-Pergo / Learning Curve Thomas and Friends track rider, available at your local Toys-R-Us. We took this to the large local private track on public ride day. It was a huge hit with the kids.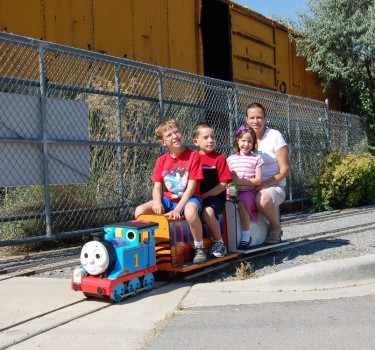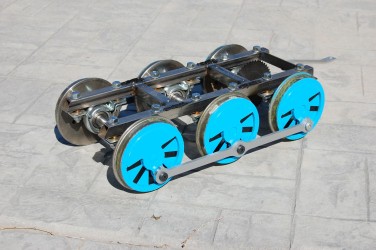 This is essentially what you'll get when you buy the kit, instructions and a coupler pocket will be included. Contact us for current pricing.

I still have a couple of the old Tek-Nek bodies available, contact me for pricing for this kit.
contact us at sales@ridetrains.net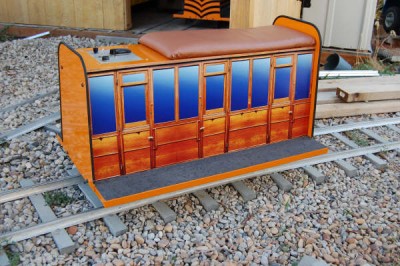 Created from photos of these LNER teak suburban coaches.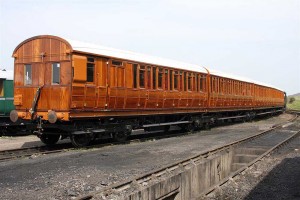 Pretty easy to see why the Rev. W. Audry would put a face on his trains.