About Us
We have a small loop a few hundred feet long around our modest suburban home that everything gets tested on. The local kids love it though, especially the resident three. Here's a google earth link to check it out from space.
I have degrees in Mechanical Engineer and Electrical Automation and Robotics with decades of experience in industry as an electrician and maintenance technician. A model railroader all my life I had ridden behind a 4-4-0 American at Griffith Park as a child (and nearly crashed into a closed gate at the end of one tunnel) and always dreamed of having a live steam railroad but didn't know where to begin. Then my uncle tipped me off on a large private railroad about 40 minutes north of me. This was all the encouragement I needed and I started building my first locomotive. That first loco was completely scratchbuilt 4-wheel electric styled after a Davenport model and taught me a great deal about power, control, wheel profile, suspension, and battery life. And after a few changes it's still the workhorse of the railroad. Later I found a plastic Thomas the Tank Engine ride-on train at a local thrift store. My kids rode that thing constantly until the plastic gearbox broke. Then it occured to me that it could be converted to run on 7.5" gauge track. Three years of building and tuning those conversion kits, along with my own children growing out of them has led me to the speeder. Originally designed to be an easy to use riding loco for kids and teens, during testing it became obvious that it could be the workhorse of any railroad, and a coupler pocket was added as standard. You may ask what corners I had to cut to keep the price that low, but my experience in design and sourcing has served me well to produce a reliable and solid locomotive, if not the most powerful or longest lasting. The goal was to sell it for less than a thousand dollars but rising material cost and some upgrades I felt were necessary drove the price point to where it is now. It is the least expensive new locomotive currently available. I also dabble in Nn3.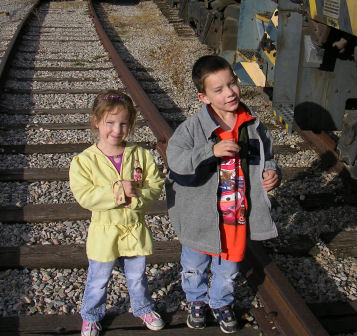 A couple of the product testers.