The Mini Motor Car - Now Taking Orders
Video of the locomotives in action
The Mini Motor Car, Also available as an unpowered riding car with coupler pockets at both ends. Designed by a parent for ease of use by pre-teens, but large and powerful enough to carry an adult and pull a car or two and sure to make older riders feel young again. Riding capacity tested to 300lbs! Measures 32" long by 18" wide at the footboards. Powered by a 1/2 HP motor and uses the Syren25 motor controller.
Features:
All metal welded construction

Powder coated single color

Includes 2x 10w or 1x 20w halogen lights

High/low beam standard

Powerful 1/2HP motor

All axles driven

Fully sprung axles

Padded vinyl seat

Low profile for stability

Charger included

Battery tray for 2x 18a/h rhino batteries (batteries not included)

Shipped via UPS

Install batteries and go!

Fun for all ages

18' minimum radius



The new MAX Motor Car (MXMC) is now available for special order
Email us for pricing and details

Orange

not your thing? Available in many colors and raw metal, just about every railroad color is available by request. Some reds may incur extra cost.

Please contact us with any questions you may have about the Mini Motor Car by emailing

roy@ridetrains.net

or call 801-819-2187.
Tested for ten miles pulling two loaded cars, designed for FIVE HOURS of heavy use between charges. Pulling capacity depends on grades and the weight of the rider, but not recommended for more than one or two cars. Motor Car is 30" long, 16" tall, and 18" wide at the running boards.

Running board covered in anti-slip coating, trim on exposed edges.

Shown is the knob control panel with reverse switch and high/low beam switch.

The single-ended stainless steel LRV style control with spring return is available for for a $150 premium. Sound is also available in this system
Price List / Order Page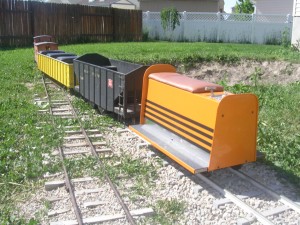 We've decorated our development rig in the classic DRGW 4-stripe scheme.